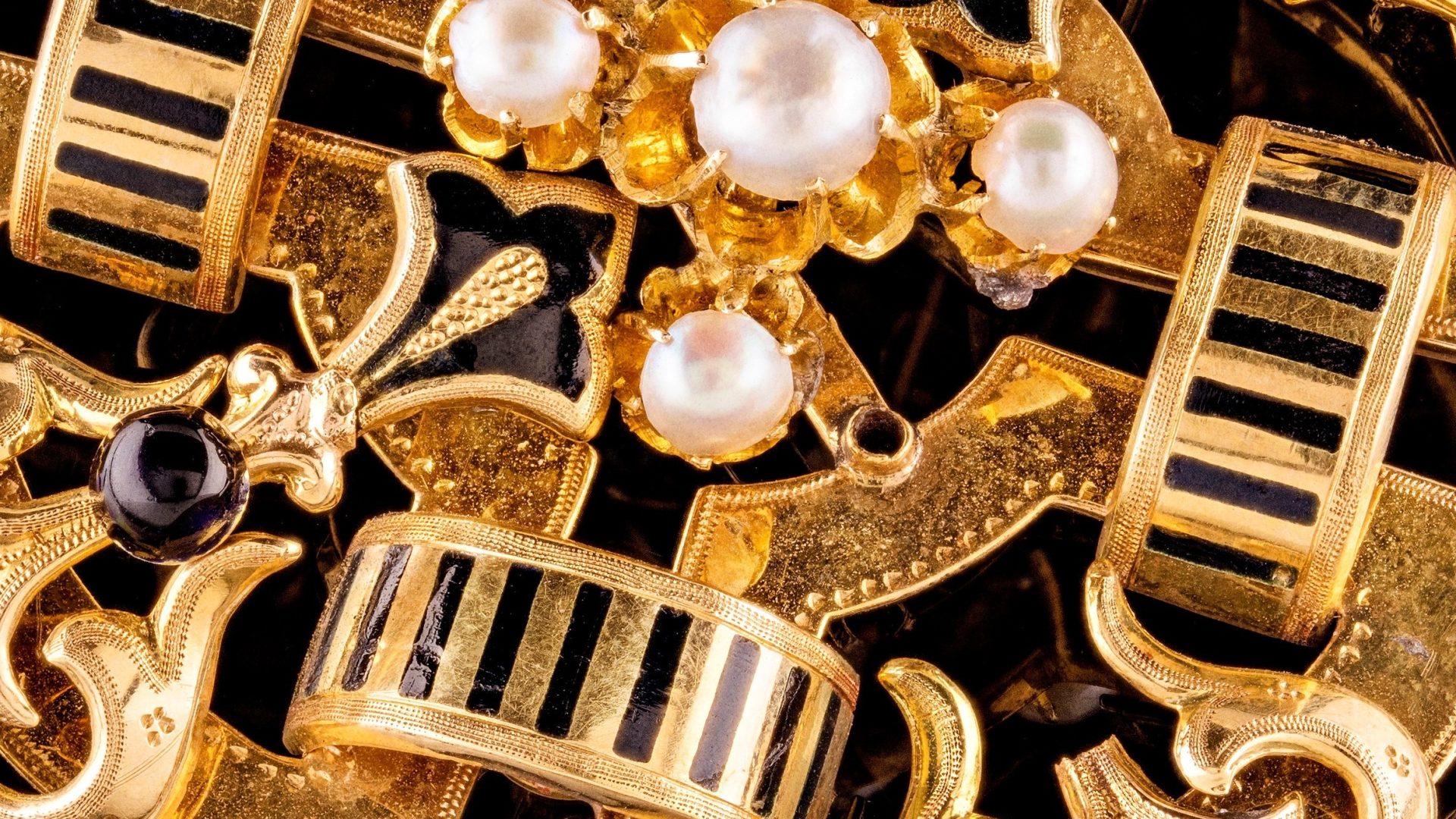 The family jewells
There are many fine rooms in Hallwyl House. The silver room, which also contains the jewellery collection, is a small room on a mezzanine floor that was previously used for the storage of trunks.
The room features Wilhelmina's silver collection, private jewellery, plus some souvenirs from trips abroad. The personal jewellery, group XXV, lies on a specially made table in the middle of the room. The catalogue describes it this way: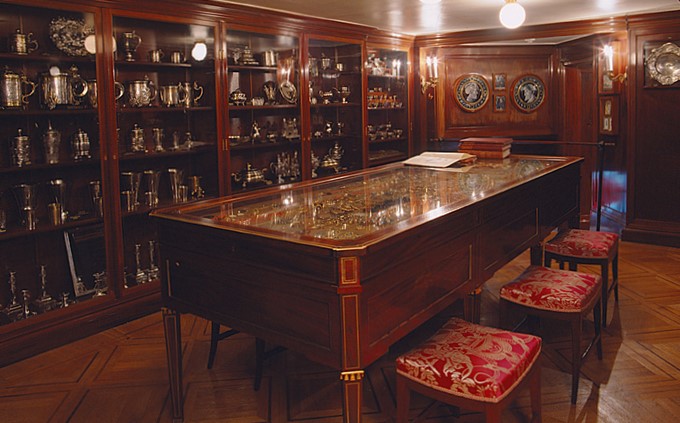 In its entirety, the group counts 241 numbers, of them 87, which Wilhelmina von Hallwyl had inherited from her mother, Johanna Kempe, née Wallis, and preserved as a special collection out of respect for her mother's memory. The objects belonging to the group are housed in the Silver Room, partly in wall-mounted cabinets and partly in the freestanding stand, which has been decorated by Gillberg's, Stockholm, following instructions from Mr Karl Andersson.
Wilhelmina von Hallwyl, née Kempe, contributed to the description with all provenance data and other information on the origin of the items, etc. The detailed description has been prepared by Mr August Lundgren, whereby the accuracy of the existing technical terms has been verified by the master craftsman Eugene Encke (1894–1929) employed by Stockholm's oldest goldsmith company, Gustaf Möllenborg. Participants have also been the bachelor of arts holder Bengt Claudelin, who has had the scientific work on his lot, and Mrs Agnes Carlsson, née Sjöqvist.
Some of the objects are parures worn by Wilhelmina and her mother. Parures, sets of matching jewellery, were in vogue especially around the middle of the 19th century and until the early 20th century. Here is a selection of five parures.
XXV:K.II:D.a.05.
A parure set consists of a bracelet, brooch, and a pair of earrings. In gold, with small beach stones in a variety of colours. The stones were picked at the Dybeck property in Skåne. The bracelet was made in Malmö in 1864 by the goldsmith Gustaf Dahlgren. The brooch and earrings were made in 1871 by the jeweller Gustaf Möllenborg in Stockholm. The parure belonged to Johanna Kempe.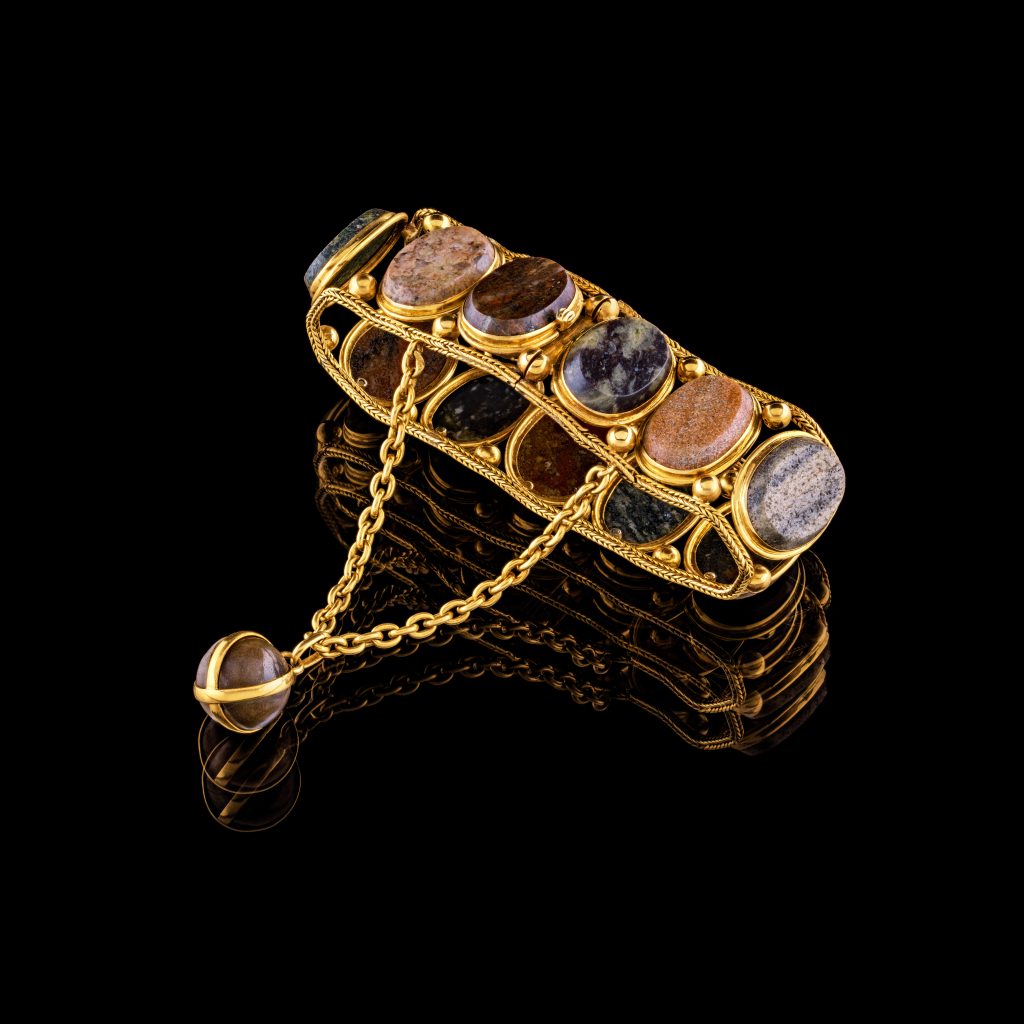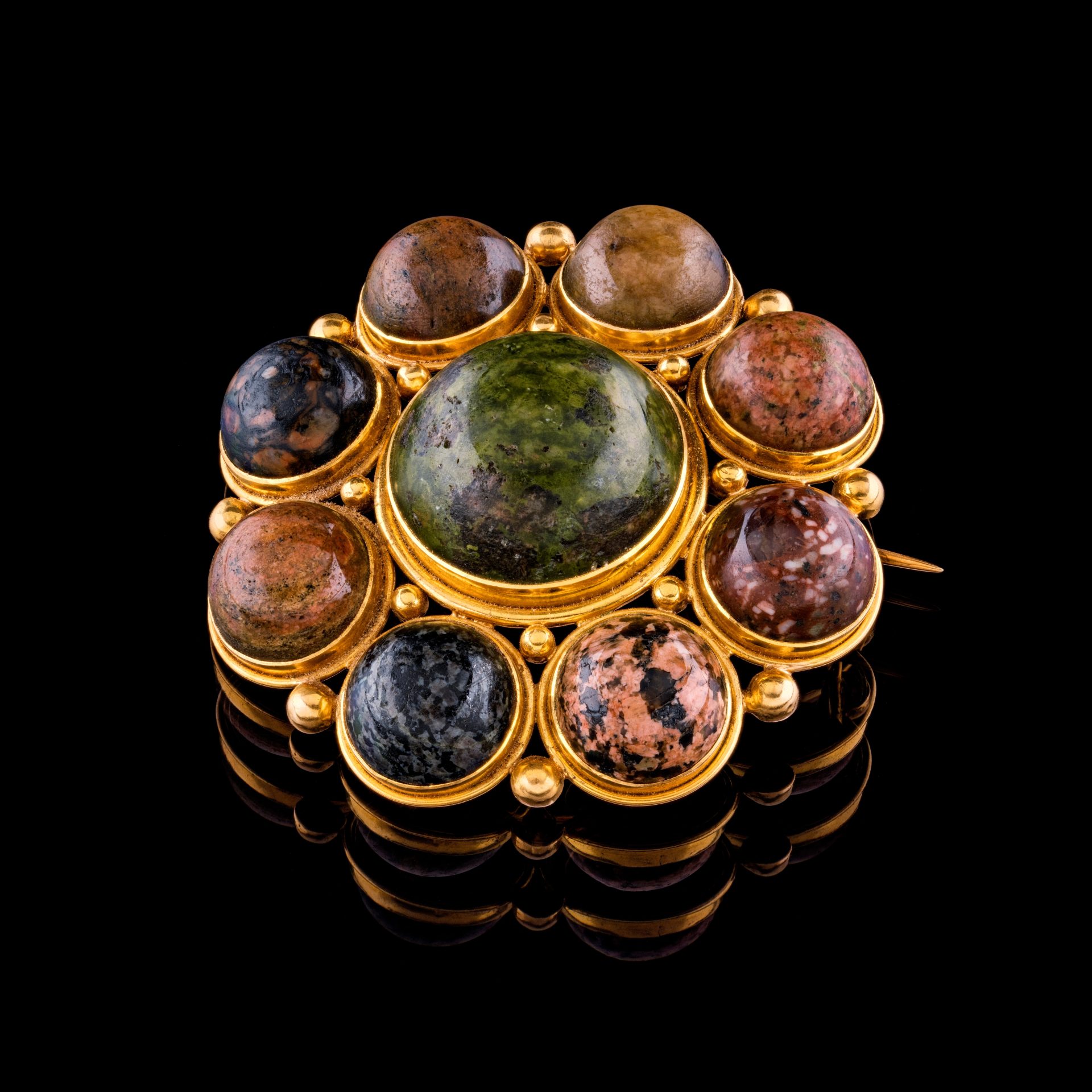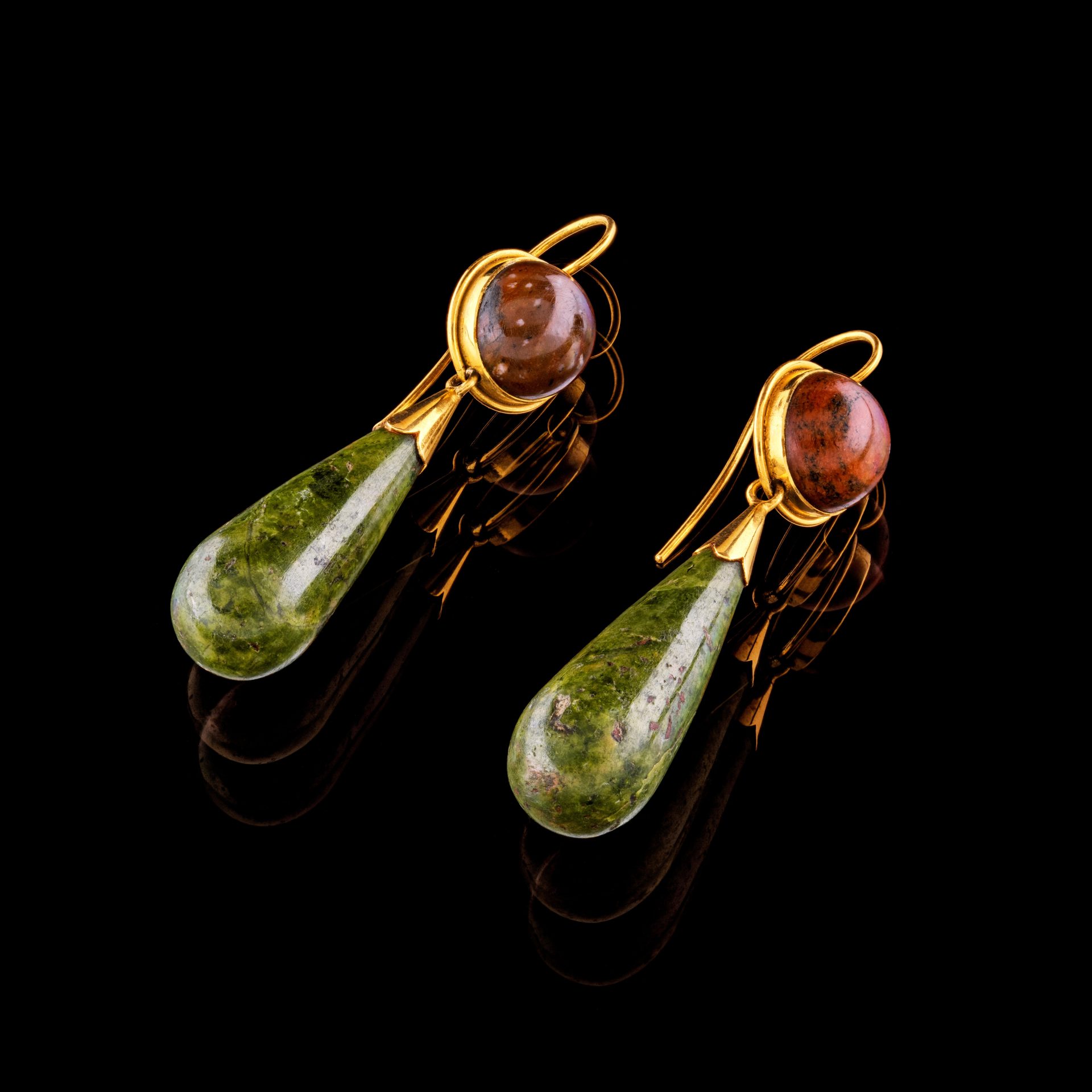 XXV:III:D.a.01.
Parure consisting of a brooch, rosette for a bracelet and a pair of earrings. Gold, black enamel and pearls. German work, Hamburg, circa 1860. Gift to Wilhelmina Kempe on Christmas Eve 1862, from her parents Wilhelm and Johanna Kempe. Purchased from a jeweller in Hamburg.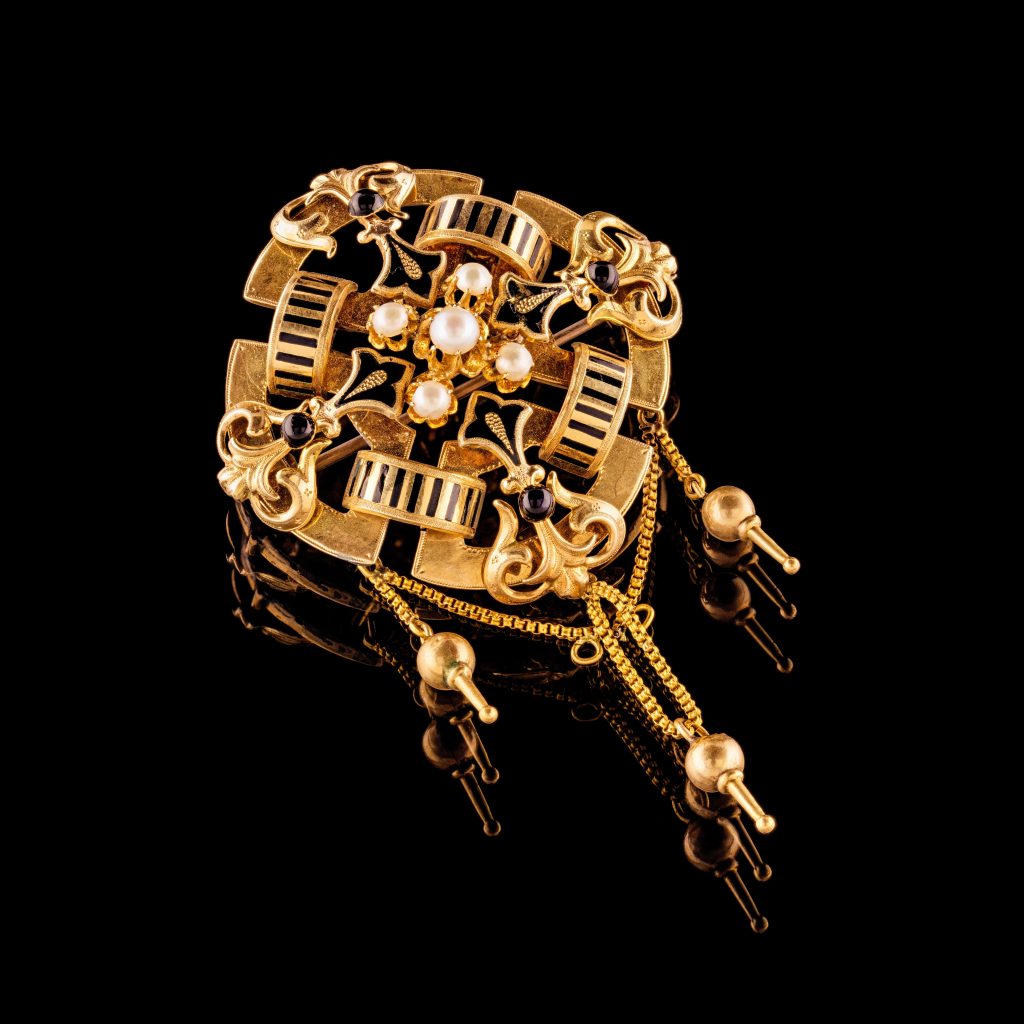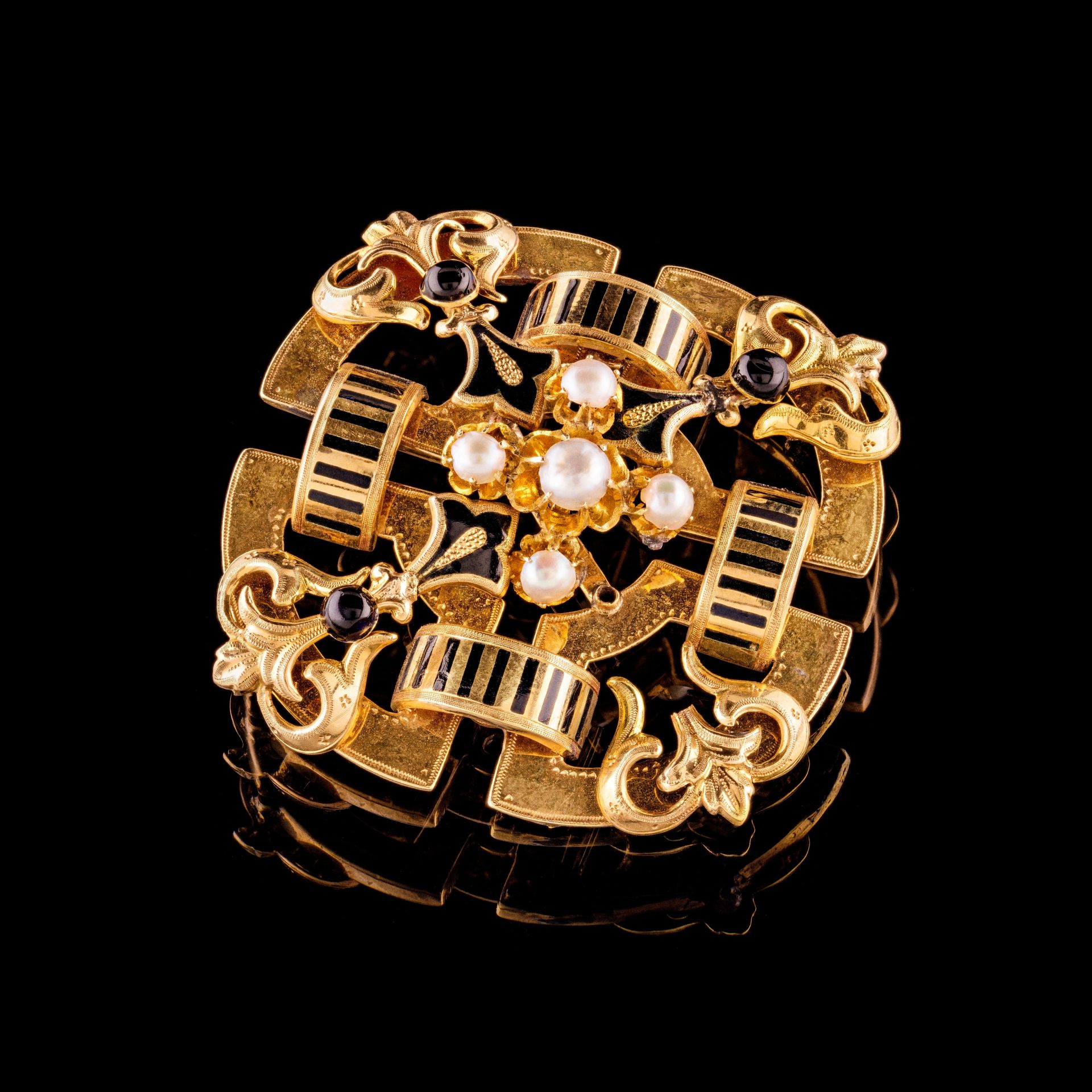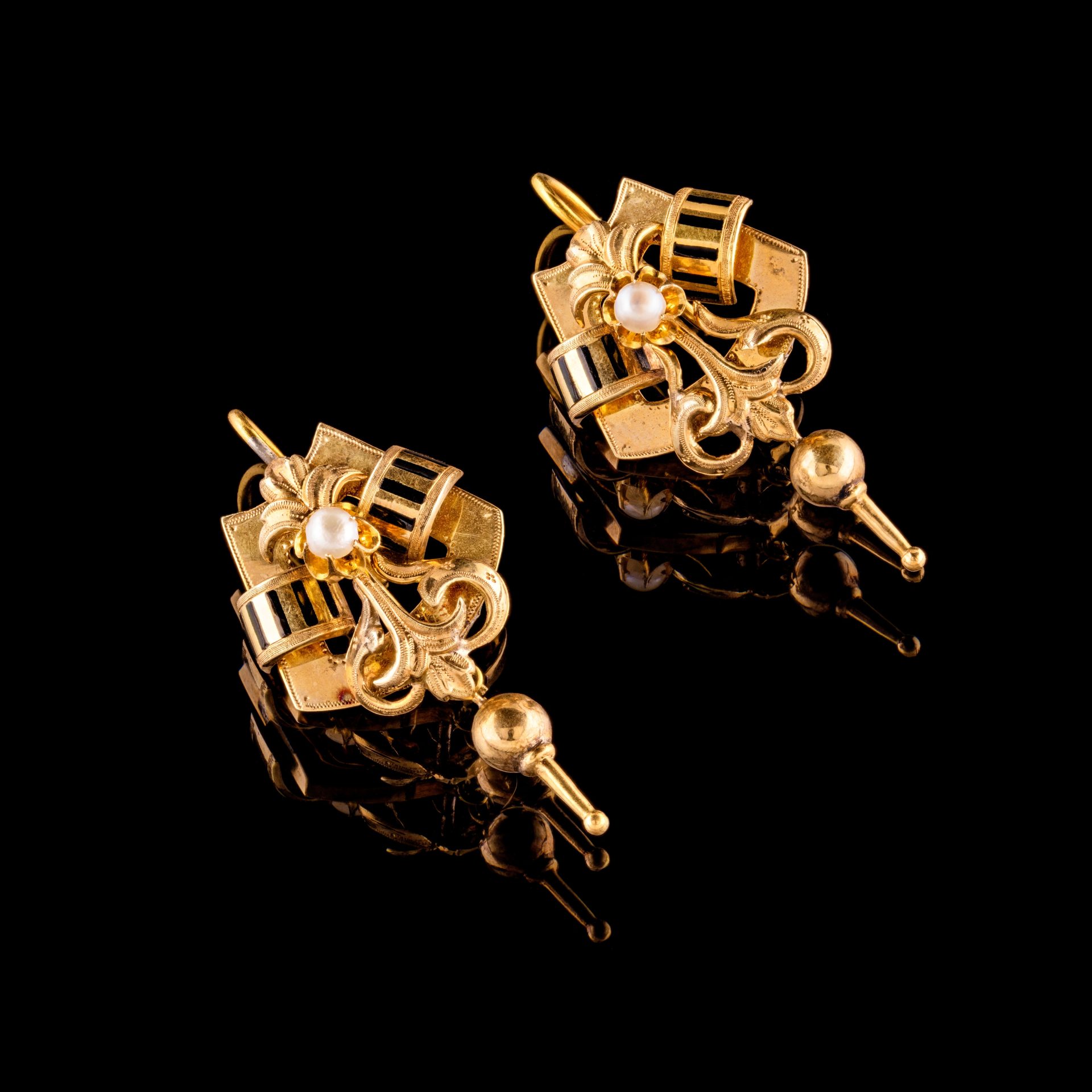 XXV:III:D.a.02.
Parure consisting of a brooch and necklace with pendant in gold and silver with Brazilian brilliants, rose stones and oriental pearls. Gift to Wilhelmina from her fiancé Walther on their first wedding anniversary. The brooch worn by Wilhelmina Kempe as a bride. Manufactured by the company Gustaf Möllenborg jewellers in 1865.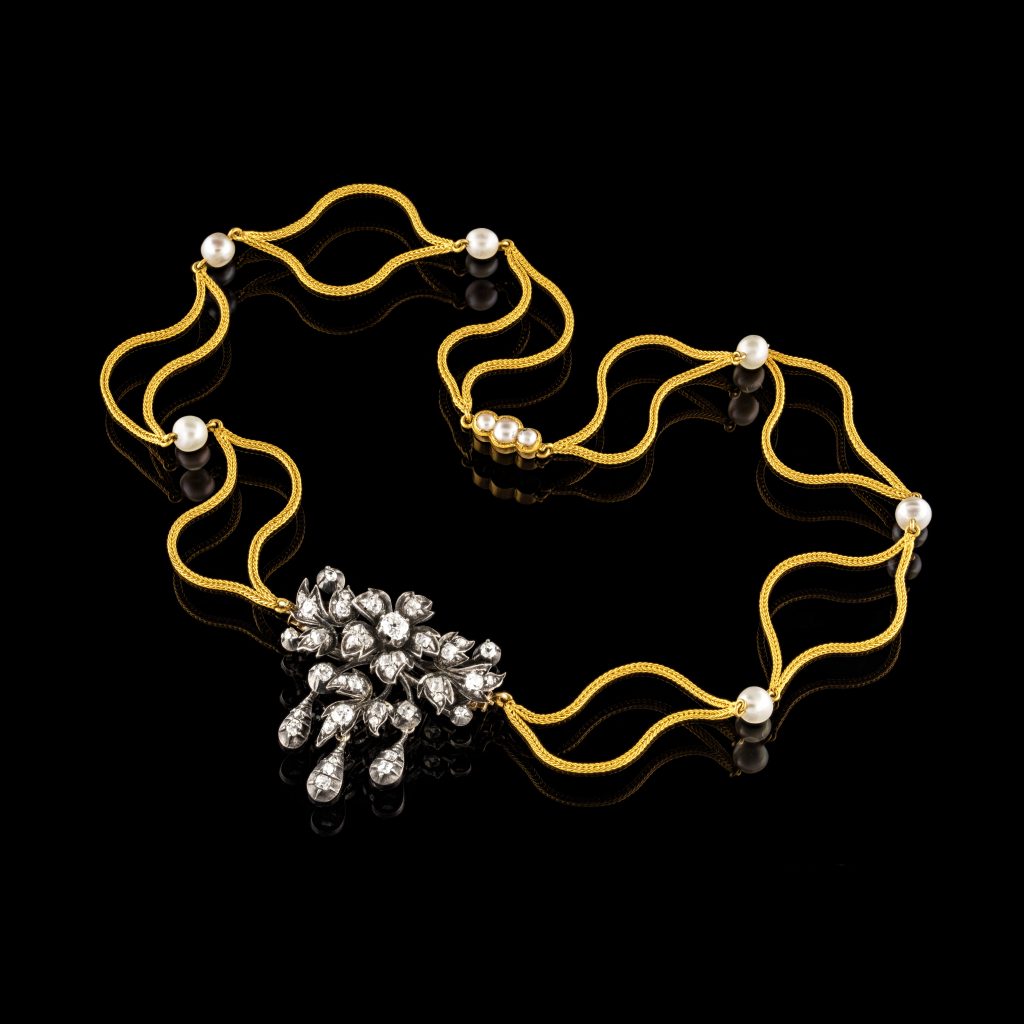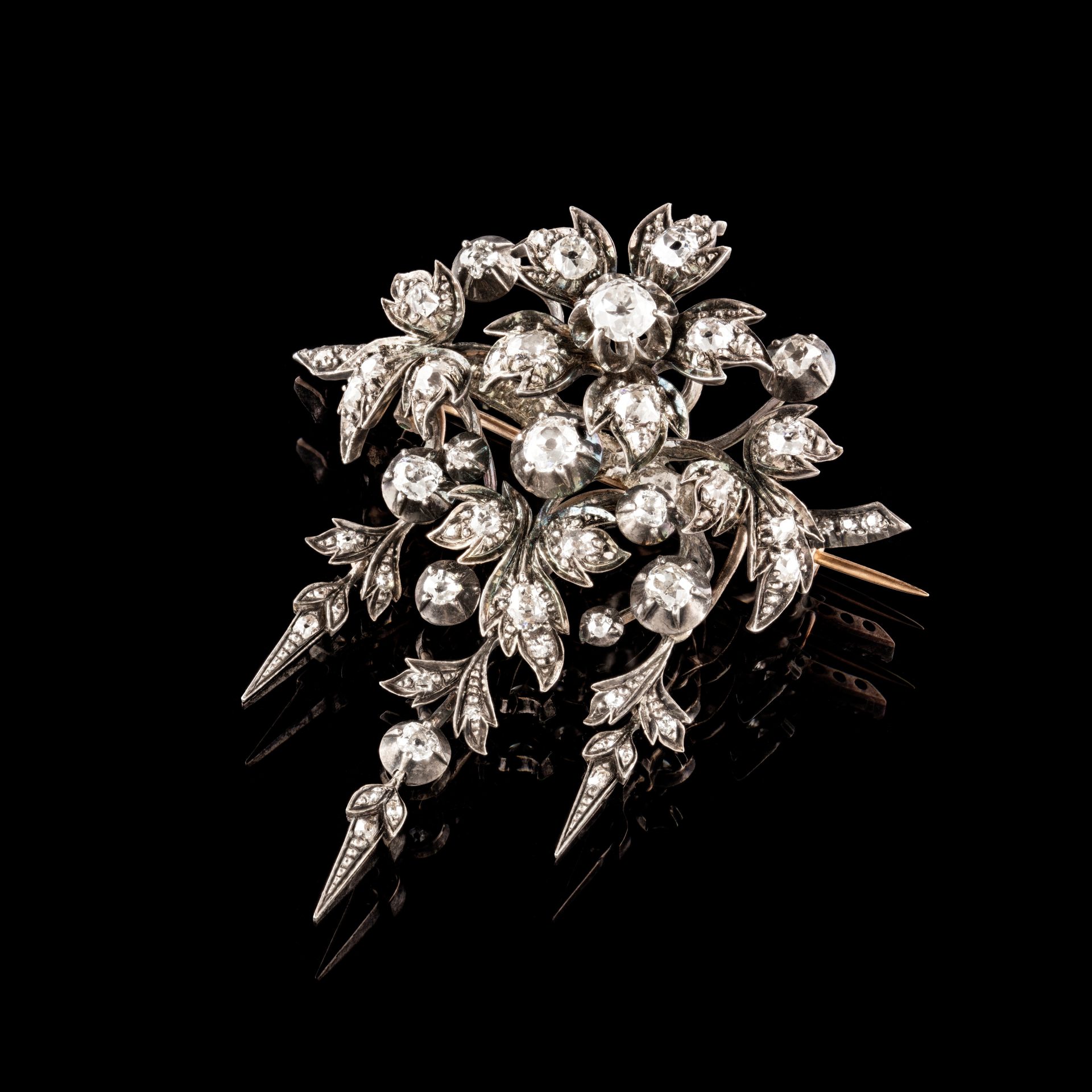 XXV:III:D.a.04.
Grand parure consisting of a bracelet, brooch, necklace with pendant and two loose clasps with gold topaz (citrine). The pendant can be disconnected and used as a smaller brooch. Bracelet and brooch a gift to Wilhelmina von Hallwyl Christmas eve 1866 from Walther von Hallwyl. Ready to order with jeweller C. Prost in Vevey, Switzerland. The necklace and pendant a gift on Christmas eve 1868. Ready to order with jeweller Gustaf Möllenborg.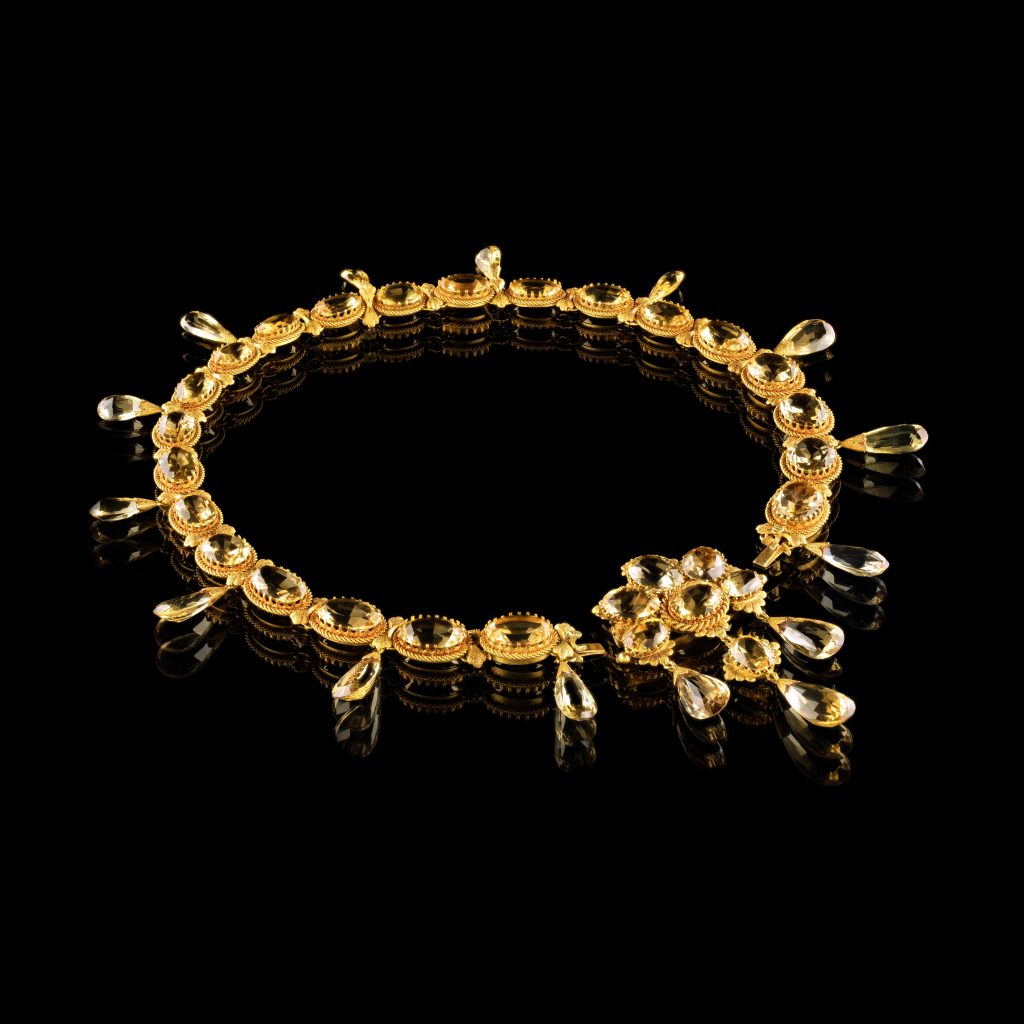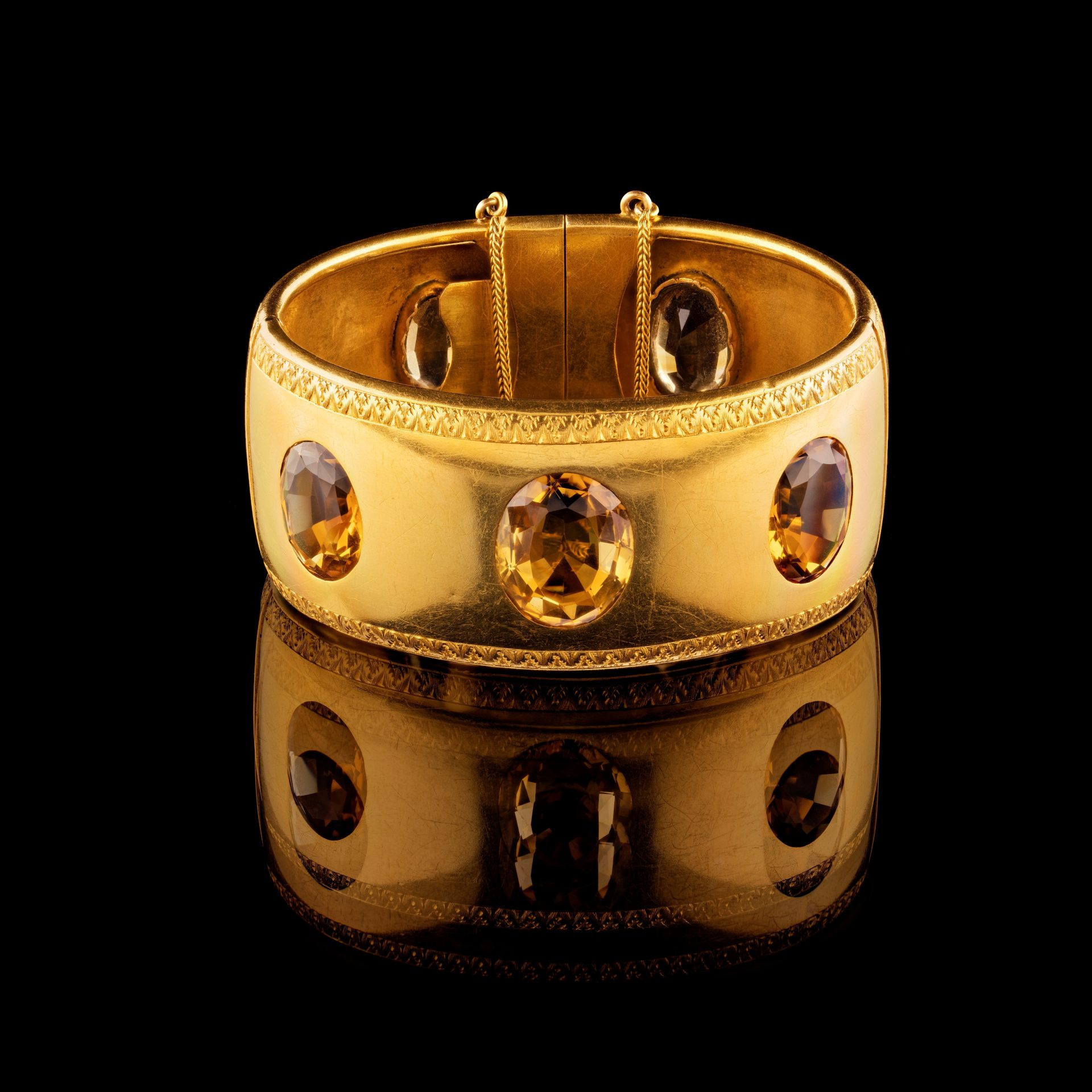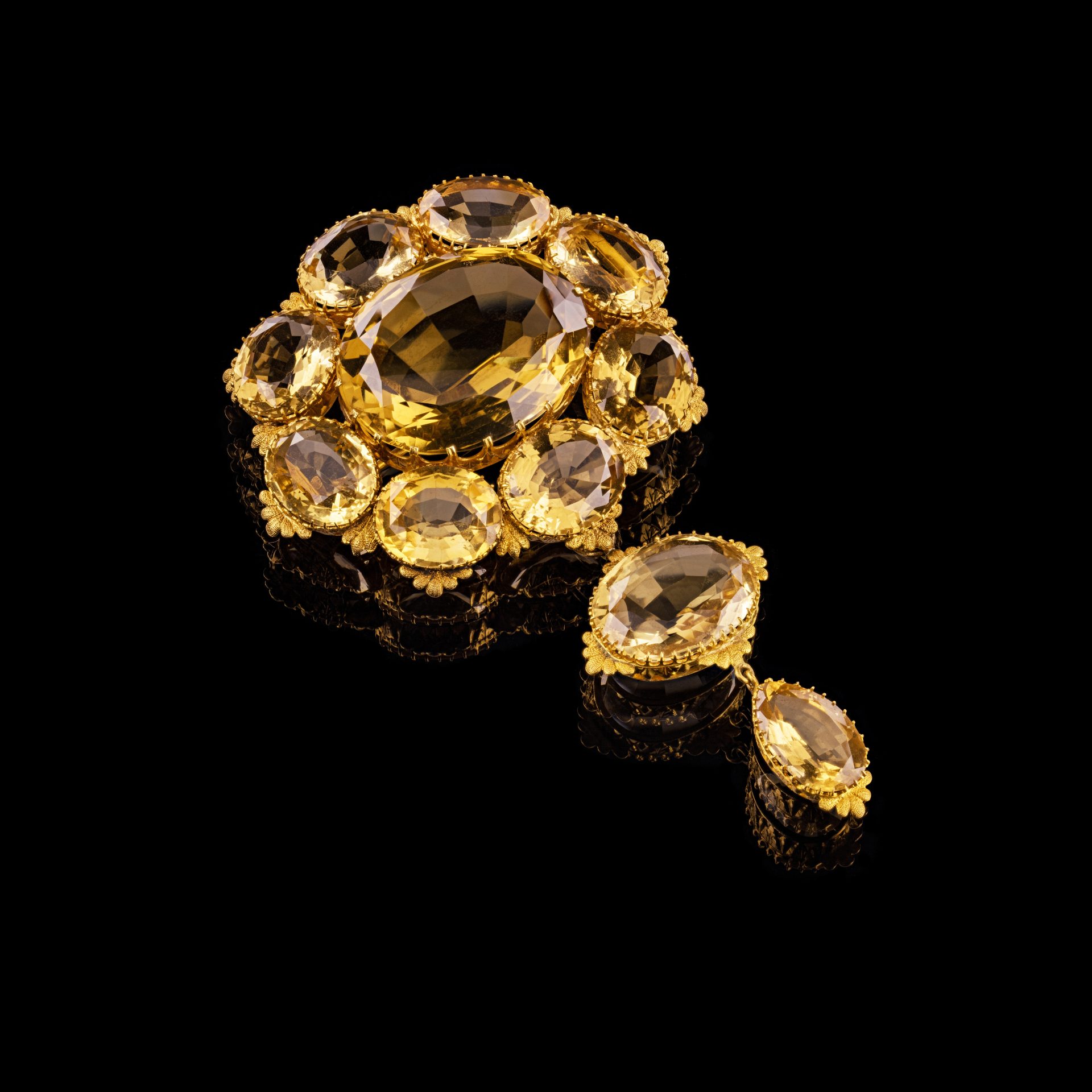 XXV:III:D.a.05.
Florentine mosaic (pietra dura) parure consisting of a bracelet, brooch with a pendant, pin pendant, and three hairpins. The mosaic panels made in Italy, were purchased by Walther and Wilhelmina von Hallwyl in the 1860s from a merchant in Switzerland. The fittings were made by jeweller Gustaf Möllenborg in 1870 (bracelet, brooch and pendant) and 1874 (hairpins).